Bio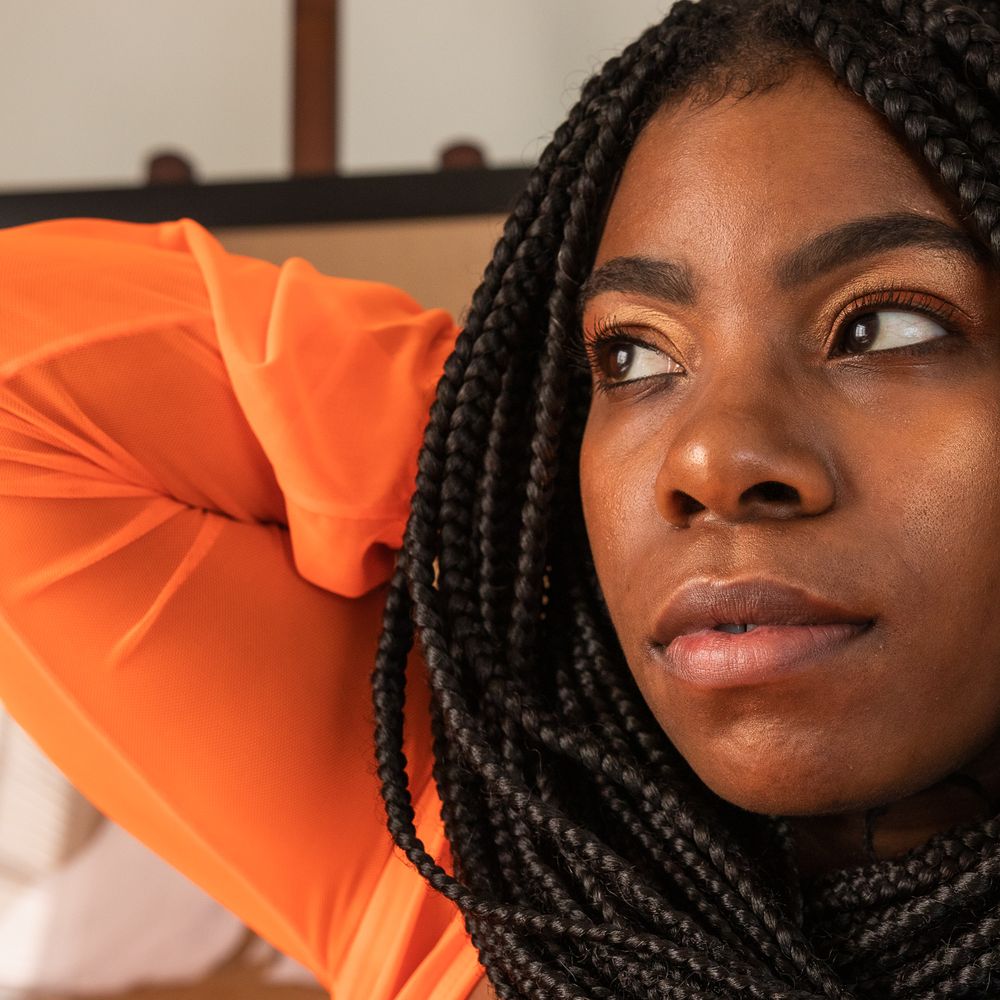 "A.yoni Jeffries has a calling that's bigger than her. She is a singer-songwriter [whose] work intersects with her art as she fosters community, and encourages people to hear, see and feel themselves in her music. We definitely hear, see and feel A.yoni Jeffries" -Soulbounce.com
A vibrant multi-disciplinary artist with a fearless approach to living out her dreams, A.yoni Jeffries has spent years honing her skills in a wide range of entrepreneurial and creative arts. She's a talented Musician, co-founder of the Afro-Indignous Cannabis farm, Handèwa Farms, a powerful, well-informed writer, and a unique artist dedicated to pushing boundaries on behalf of herself and the people she represents. Growing up between Brooklyn, NY, Durham, NC, and Mississauga, Ontario, A.yoni often traveled between states and countries on her own, developing a fierce independence at a young age.  
She's the kind of person who dreams deeply and lives confidently, putting in the groundwork to realize her vision in ways that benefit everyone around her. As a professional, A.yoni wears many hats, but she treats her ongoing, multidimensional creative life as an opportunity to learn, grow, and connect disparate people, places, and ideas. "You can't do everything at once— everything has its time. I'm learning to allow that to be. Opportunities come when you're open to them." 
A.yoni comes from a family of musicians, artists, sculptors, builders, and creators of all kinds. Her parents, both artists themselves, nurtured her creative spirit and encouraged her self-reliance. Native American from the Occaneechi band of the Saponi Nation on her mother's side and Jamaican on her father's side, A.yoni was a curious and wildly creative child. At nine months old, she was inventing her own songs; By five years old, she was reading chapter books. (Once, when her mother revoked her TV privileges, she created her own TV out of cardboard rummaged from the trash.) That same bold, creative intuition now guides her through the ups and downs of adulthood. "I feel my way through life. I think more people should live like that." 
A charismatic entertainer, A.yoni has been storytelling and making music since before she could speak. She's had professional vocal training, from both Grammy-nominated musician Danny Yancey and Emmy-award-winning musician Gwen Conley, since she was eight years old. Between 2017 and 2019, A.yoni released numerous singles and music videos to high acclaim before dropping her first solo full-length project, Potential Gon' Pay, in August of 2020. An elegant, edgy, and compelling album, Potential Gon' Pay explores A.yoni's history, philosophy, and experience through lyrics about everything from Black Liberation to modern love, freedom to feminism. 
A.yoni's sound incorporates stylistic elements of everyone from Sade to J. Cole to Ella Fitzgerald, with unorthodox musical arrangements that characterize her original songwriting. Her music honors her lineage on both sides, heavily influenced by Jamaican reggae tradition and infused with a Native American sense of the sacred. "I focus on where I come from and what I've inherited. To be the person that takes the staff and defines what that music sounds like is a sacred gift. I'm grateful to know where I come from, because it teaches me how to move forward, and where to go next." 
Prior to her first musical releases, A.yoni participated in a range of theatrical arts, honing her ability to connect with audiences of all kinds through a range of different media genres. She appeared as an actress in a series of FOX 50 commercial shorts, and worked as a puppeteer and vocal talent for "Afrofuturistic Hip Hopera" Jeghetto's Spinokio, co-written by Tarish Pipkins (aka Jeghetto), and North Carolinian Emmy-award-winning producer, Pierce Freelon, and funded through the Henson Foundation. She provided voiceover content for The History of White People in America, a series of animated shorts on PBS: WORLD Channel. She also participated in creative multimedia workshop The Future of Storytelling alongside fellow North Carolinians Pierce Freelon (musician, director, professor, and founder of Blackspace) and Alan Thompson (bandleader, composer, and acclaimed pianist and Saxophonist).  
As a writer and advocate, A.yoni writes poetry, prose, and non-fiction, often covering mental health and cultural issues related to global Afro and Indigenous communities. Sometimes her writing coincides with her political advocacy, both driven by her conviction to liberate, assist, and empower others. She worked as a Political Field Organizer for over ten years, first as a nation-wide organizer for Field Strategies, a team of strategists and organizers redefining campaign and advocacy standards for voter contact and turnout, and later as Regional Director with Next Gen America, a coalition of young organizers working together to support progressive candidates. In 2017, A.yoni decided to leave politics to focus on making music and developing her next adventure: founding her own company, Awaruhi Inc., to support and scale black and brown businesses.  
A.yoni now runs her own successful consulting business at the intersection of art and entrepreneurship, using her experience and knowledge to help other artists and burgeoning entrepreneurs scale their businesses through the tenets of branding, productivity, discipline, and fortitude. Awaruhi Inc. specializes in business development, project management, event curation, management, and media production for a wide range of creative and entrepreneurial clients and companies, including historically Black liberal arts mecca North Carolina Central University. Awaruhi Inc. currently serves as the NCCU's Public Communications Specialist team, contributing copyrighting, graphic design and administrative support to their Chancellor & Vice Chancellor.  
While focusing her attention elsewhere, A.yoni founded, directed, curated and headlined Summa Bumma | Alternative Music Festival through Awaruhi Inc. in 2019. Summa Bumma is NC's first alternative music festival, and coined a summertime celebration of North Carolina's diverse and eclectic arts scene. The unique annual event, which features alternative DJs, live musical performances, improv comedy, and visual art by talent from across the state, is a reclamation of joy and freedom through music, community, and dynamic creative expression.  
A.yoni's visual art, which includes performance pieces, drawing, photography, large-scale paintings, and murals, often celebrates her heritage while inspiring others — particularly young Afro-Indigenous women — to believe in themselves and their own power.  In 2014, her drawing, titled "I Am My Hair," took 2nd place in Wake Review's Photography and Art contest. In 2018 she, along with 22 other Black artists in Durham, participated in "Buy My Soul and Call it Art," an immersive performance exploring the roles of race, gender, class, money, and emotional labor in modern society.  
In November of 2020, A.yoni was commissioned by Culture Mill, a performing arts laboratory offering educational outreach and groundbreaking immersive artworks from local, national, and international artists, to create a large Indiginous wall mural at their space in Saxapahaw, North Carolina. The work is a colorful and human-centric "Indigenous Land Acknowledgment," designed by A.yoni to honor her roots as a citizen of the Occaneechi Band of the Saponi Nation and to honor the Native American tribes that once occupied the lands now known as Saxapahaw. The mural features contributions from artists S'nya Brown, Gabrielle Brown, and Sophia Brown, who are also citizens of the Occaneechi-Saponi. 
In 2019, after six years of fundraising, research, and planning, A.yoni and a team of seven partners launched Handèwa Farms. Handèwa is an Afro-Indigenous owned, women-led organic hemp farm in Rougemont, North Carolina. Aligned with her Occaneechi-Saponi roots, the Afro-Indigenous farming effort works to de-stigmatize the Cannabis plant and highlight its many beneficial uses through sustainable production methods. With the conviction that access to food is essential, the farm's mission is to improve the quality of life for others, with a keen focus for education, outreach, and sharing the land's wealth with those around it. Handèwa provides access to over 6,000 pounds of fresh, quality food to those who live within food deserts and experience food insecurity in nearby communities, with an emphasis on women and children in North Carolina, as well as education on sustainable farming methods and self-sufficiency.  
The farm is located on land historically cultivated by the Indigenous Occaneechi-Saponi Nation, gifted by neighboring retreat center Respite in the Round as part of a private land reparation project led by Respite in the Round owner, Kristen Cox, in solidarity with the Jeffries family, who are Occaneechi-Saponi citizens. In A.yoni's native tongue, Tutelo-Saponi, Handèwa means generational. She's stated, "this is my family returning to our land." 
Whether creating masterpieces of her music, managing the complex workings of the sustainable Cannabis farm, Handèwa Farms, advocating for the rights of others, planning arts events, running her own consulting business, celebrating her roots, protecting Indigenous spaces, or creating her own distinctive art, A.yoni's focused, wildly creative spirit draws audiences and collaborators from all over the world.  
Her enthusiasm and intelligence infuse everything she does, and her infectious approach to life blends compassion and confidence, balancing organization and freedom. Through her murals, albums, publications, performances, and projects, she consistently greets the world with unapologetic originality, honoring her origins and looking toward a bright future.